Baoli trucks are being fitted with engines made by KION's anchor investor Weichai Power. A prime example of how synergies are being harnessed within the KION Group.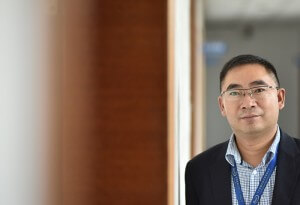 Weichai is one of the best-known engine brands in China for trucks and articulated lorries. What many people don't realise, however, is that the brand now also makes engines for forklift trucks – including for the customers of the KION company Baoli. "We need to precisely explain to our customers the qualities of the Weichai engine," says Baoli Sales Director, Gu Qiqing. "But when you're talking to people their interest is soon piqued because of the Weichai brand's excellent reputation. They trust Weichai to also produce good forklift engines." In Jingjiang, on the northern banks of the Yangtze river, Baoli has been installing the new Weichai engines in small trucks weighing 2.5 or 3 tonnes since the second half of 2014. Since then, around one in seven Baoli forklifts have been fitted with the new engine.
Weichai Power Co. Ltd. focused on internationalisation at an early stage. The company was the first engine maker in China to be listed on the Hong Kong Stock Exchange. Today Weichai Power is the biggest single shareholder in the KION Group, holding a stake of around 38 per cent. "This makes the collaboration particularly advantageous," says Gu. "Baoli benefits from the awareness of the Weichai brand and the company's extensive aftersales network. It never takes long for spare parts to arrive. On the flipside, Baoli has experience in orchestrating a complete production chain for forklift trucks, as nearly all important parts are produced by the KION brand company itself."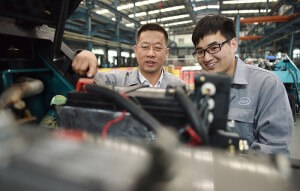 Weichai involved Baoli in development right from the start. For a lorry engine to be used in a forklift truck it first needs to be adapted – and initially Weichai didn't have the expertise to do this. "Forklift trucks are mainly driven indoors. So they have to be smaller than regular lorries," says Shi Yuanfu, head of research and development at Baoli. "This means there is less space for the engine, which therefore has to be small and compact." And because the drivers sit right on top of them, the engines have to be quieter than in lorries and vibrate less.
Exhaust emissions also had to be reduced. The latest Weichai forklift engines WP2.7 and WP3.2 meet China's National Standard 3, which more or less corresponds to the Euro 3 emissions standard. "We also had a number of special requirements," says Shi. "We expect our forklifts to have a minimum power output. They have to be able to get up ramps, for example.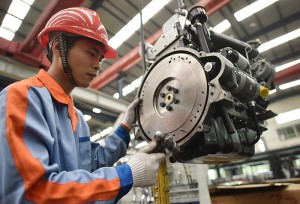 And we can't have any black smoke coming from the exhaust." According to Gu, the plan is for Baoli forklifts fitted with Weichai engines to be exported to Europe as well, once they have been granted Euro 3 certification. Soon, Weichai engines will also be installed in forklifts in the four to five tonne and five to ten tonne class. Shi's team is currently producing drawings for the assembly of Weichai engines.
Married in only 20 minutes
The engines are still connected up to the axle and gearbox by hand at Baoli. One to two workers fix the individual parts in place with a power drill. It takes just 20 minutes for them to marry everything up. The assembly is then lifted into the turquoise chassis. The proportions of the Weichai engine are somewhat different to the engines of other brands, and at the design stage the positions of several cables and the oil filter were changed in consultation with Baoli.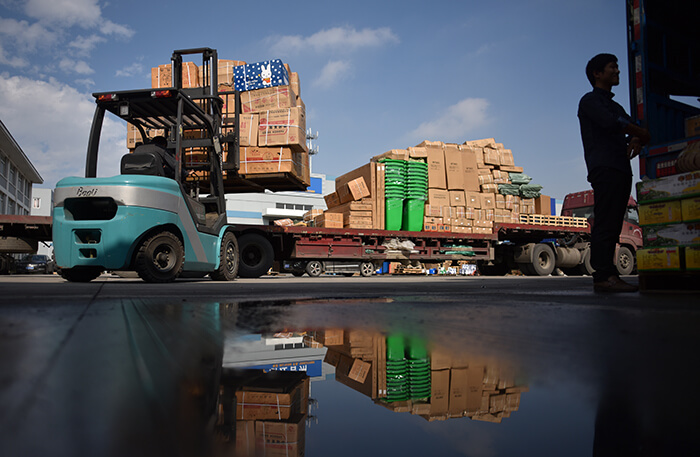 The answer as to why Weichai Power entered the forklift engine segment in the first place is simple – the sales market of material handling equipment. Sales of lorries and construction machines are stagnating in China – and therefore so are sales of appropriate engines. "By contrast the market for forklift trucks and their engines has been growing steadily, by around 10 to 20 per cent, for a number of years," explains Shi Yunfu.
An eco-friendly engine
According to Gu Qiqing, most Weichai-Baoli forklifts have up to now been going to logistics centres and small transport companies. One of these is owned by Ni Feng. At a logistics centre in the eastern part of the town of Taizhou he organises direct transport runs to Shanghai, 300 kilometres away.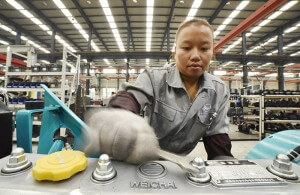 Ni has seven lorries and seven drivers, and since May 2015 has been the owner of a three-tonne Baoli forklift – fitted with a Weichai engine – that lifts the loads onto the lorries. "At first Baoli had to persuade me a little," says Ni, looking back. "I didn't even know that Weichai made engines for forklifts." But he is a very satisfied customer: "The engine is more eco-friendly, uses less diesel and produces fewer emissions."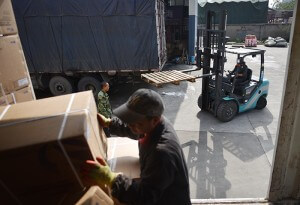 That's important, as forklifts in the logistics centre have to navigate narrow courtyards where people live. They have their homes right above their small sales offices. Children play between pallets and packages and grandmothers hang up their washing there. Right in front of the shop next to Ni, the owner is cooking her lunch in a wok over an open fire. There isn't much space and, as Ni says, the Weichai engine thus has another plus point – its power. "For the same performance I would have needed a bigger forklift before."