The KION Group, a global leader in industrial trucks, related services, and supply chain solutions, is launching the largest new product line in the history of the material handling industry at ProMat 2017, the premier expo for manufacturing and supply chain professionals in North America.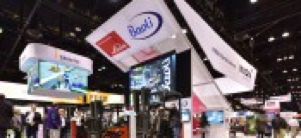 This is the first time KION is showcasing its offerings together with Dematic, the U.S. leader in advanced integrated automation technology, software and service, which the Group acquired in November 2016.
KION North America announced the release of five new Linde and Baoli forklift trucks, developed specifically with the needs of the North American market in mind. Supplementing Dematic's range of products and services at ProMat will be an advanced operational "piece picking" robotics solutions powered by the Dematic iQ Warehouse Execution System, specifically designed for dynamic order fulfillment.
"We are proud to make a statement at ProMat this year by demonstrating our enhanced product offering across our brands," said Gordon Riske, CEO of the KION Group. "E-commerce is soaring and this requires increasingly digitized, automated and customized warehouse solutions. We are pioneering a new kind of company with a comprehensive offering, ranging from forklift trucks to fully automated supply chain solutions, that is built for the future of the material handling and supply chain challenges of our customers."
"We are confident that companies will be very impressed when they see and experience the capabilities of KION North America and Dematic first-hand," said Scott Watts, CEO, of Dematic, North America. "Our customers are looking for innovative ways to respond to the ever growing demands of today's consumer. Our combination of best-in-class intelligent software and automation delivers unique responsive order fulfillment solutions unmatched in the marketplace today."
Vincent Halma, President and CEO of KION North America, added that this is a historic moment for KION North America. "The rate at which we're releasing new products and services is truly unprecedented," he said. "Our goal is for Linde and Baoli to be household names in America the same way that they are already in much of the rest of the world. We make the world's most innovative industrial trucks and we're excited to reintroduce them to the North American market."
At ProMat, the KION Group will be represented by five brands – Linde, Baoli, Dematic, Dematic Egemin and Dematic Retrotech – giving it the largest footprint on the show floor of the more than 850 exhibitors. ProMat will be held at McCormick Place in Chicago from April 3-6.