Representatives from the sales organizations met in Lainate to take stock of the new products and growth strategies for the brand, which is targeting 2% of the market.
Over 50 representatives from the Baoli sales organizations in Italy met at the headquarters in Lainate to take stock of the products, strategies and goals of the company, which has won a market share of 1.7% with a network of 64 dealers in just two years after launch on the Italian market.
As explained by Massimo Marchetti, Head of Sales of Baoli Italia, "The exponential growth of the brand drove us to organize this dealer meeting, both to welcome the new sales organizations and also for the network to be able to meet and discuss their experiences with each other. We are extremely pleased with the feedback that the dealers are receiving from the market. The Baoli forklifts are demonstrating their quality and reliability in the field, our customers are very satisfied and they themselves are becoming the primary testimonials for the brand ".
The Baoli dealer meeting was an opportunity to introduce the solid Baoli EMEA organization to the network. After successfully launching Baoli in Italy, the company decided to establish the Baoli EMEA headquarters in our country and all aspects of the sales, post-sales and marketing operations are now managed from Lainate. This is a great advantage for the Italian sales network, which is also supported by the 14,000 square meter warehouse located in Rolo, serving as both a centralized distribution hub with a stock of over 100 ready-to-deliver forklifts, and as a spare parts department which, with a surface area of over 10,000 square meters, is one of the largest in Europe. Also, greatly appreciated were the e-learning tutorials developed by Baoli EMEA, which allow the sales network to learn more about the products and sales support and are quickly and easily accessible online.
During the meeting, a lot of time was also spent testing the products and the dealers were able to test all the main forklifts in the Baoli range, including pallet trucks, stackers, KBE electric and KBD diesel front-end forklifts. The EP12W, an innovative 1.2t electric transpallet truck that is incredibly efficient and very inexpensive, garnered a lot of interest in particular, as well as the KBD 50, the 5,000 kg diesel which is ideal for more heavy-duty tasks.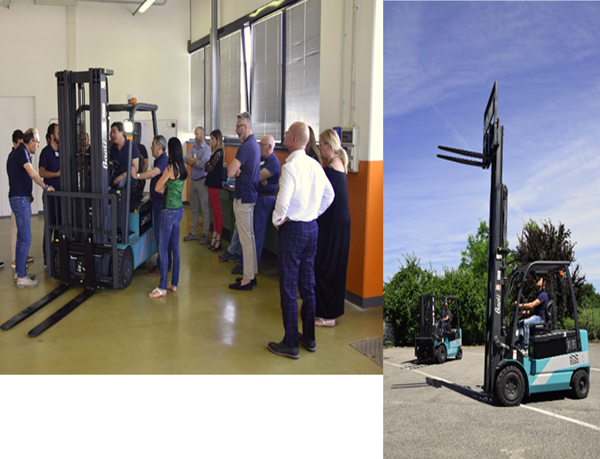 Marchetti concluded that "The best thing about this meeting was being able to gauge firsthand the confidence of the network in the project we are undertaking. In only two years since launching on the Italian market, Baoli has acquired a network of 64 dealers and has already delivered 1,200 forklifts, greatly exceeding the targets we had set for ourselves. The next goal is to strengthen our presence in the territory, win 2% of the market, and grow the rental part of the business, including creating a short-term rental service managed directly from Lainate."