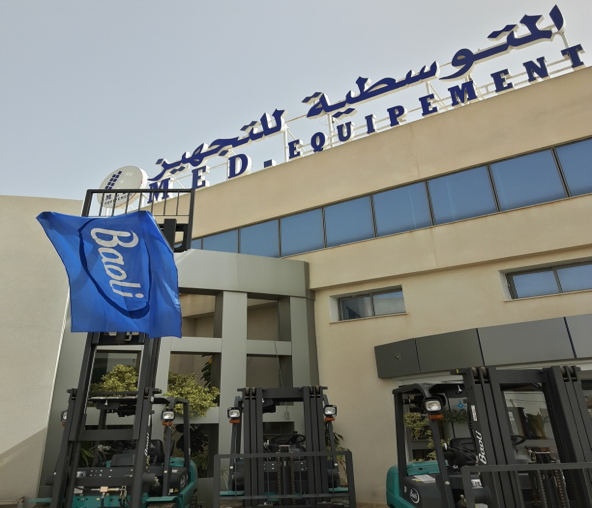 Mediterranean Equipement is a Tunisian based company created in 1987 "Ex-HUARD TUNISIE COMMERCIALE" with a capital of 2.000.000 TND. It is specialized in the distribution of agricultural, industrial, handling equipment as well as lubricants.
The company derives its strength from its respectable commercial capacity within the Country and it's belonging to the LOUKIL Group / Holding, which assures it a permanent and solid financial and administrative support. Furthermore, its excellent performance in these fields has won it the respect and trust of several international companies in and outside Tunisia.
Mediterranean Equipment now owns a new ultramodern HQ's with wide showrooms located in the industrial area of Sfax. It also has several branches covering Tunisia territory giving to its customers the best convenient services and ensuring the finest after sales facilities.
Most importantly, Med. Equipement's success in the commercial sector was made possible with its young, aggressive and well-trained staff most of which received its training in European countries. Its department's methods and quality control procedures are highly regarded by its customers and competitors alike.
Please follow the below link for more details about the company:
Headquarter:
Address: Sidi Mansour Road Km 0.5,
Taparura, 3002, Sfax – Tunisia
Main: +216 74 286 372
Fax :  +216 74 286 880
E-mail : Commercial@med-equip.com.tn
Web site : www.med-equip.com.tn
Business hours: 8:00 – 17:30
---
Kébili Branch :
Address: Gabès Road,
4200, Kébili – Tunisia
Main: +216 75 494 117
Fax :  +216 75 494 111
E-mail : Commercial@med-equip.com.tn
Web site : www.med-equip.com.tn
Business hours: 8:00 – 17:30
---
Sbiba Branch :
Address: Habib Thameur Avenue,
1270, Sbiba – Tunisia
Main: +216 77 488 632
Fax :  +216 77 488 631
E-mail : Commercial@med-equip.com.tn
Web site : www.med-equip.com.tn
Business hours: 8:00 – 17:30
---
Gabès Branch :
Address: 194, Farhat Hached Avenue,
6000, Gabès – Tunisia
Main: +216 75 278 123
Fax :  +216 75 278 788
E-mail : Commercial@med-equip.com.tn
Web site : www.med-equip.com.tn
Business hours: 8:00 – 17:30
---