Prague (Czech Republic), March 27th

 

2017
– Baoli Material Handling Europe draws a positive conclusion from Logimat 2017, because many international dealers and operators of material handling equipment viewed at the Baoli stand key trucks of the broad product range. Baoli exhibited its diesel forklift KB30 as well as the three-wheel electric truck KBET15. The KB30 is equipped with the diesel engine Mitsubishi S4S-474 for reliable performance. Robust materials like iron for the engine hood, are enabling long service life. Forklifts of the KBET series are equipped with AC motors made in Italy. Using AC-technology for traction as well as lifting keeps maintenance and energy cost low. The KB30 and KBET15 are forklifts of the consistent KB product family, which includes also LPG forklifts. Their design of the overhead guard and the angular counterweight provide good visibility for the operator. The various models of the product family share numerous components. Spare parts can be managed efficiently since technicians understand easily how to maintain the trucks.
About Baoli:
Baoli Material Handling Europe s.r.o. is a subsidiary of KION Baoli (Jiangsu) Forklift Co. Ltd., which develops, manufactures, sells and services practical and reliable forklift trucks. The product portfolio comprises engine, electric forklift and warehouse trucks with load capacities of between one and ten tonnes. KION Baoli employs over 700 people, headquarters and production facilities are located in Jingjiang in Jiangsu province of China (near Shanghai). The headquarters of Baoli Material Handling Europe is based in Prague, Czech Republic. Baoli is a member of KION Group. Further information about Baoli is available on www.baoli-mh.eu.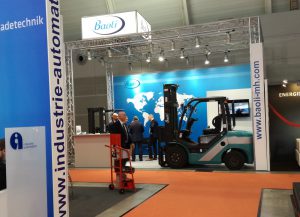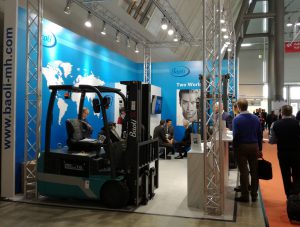 At Logimat Baoli exhibited its diesel forklift KB30 and the electric truck KBET15 (Photo: Baoli)
For further information:
| | |
| --- | --- |
| Brigitte Knittlmayer | Vera Klickova |
| bk – b2b public relations | Baoli Material Handling Europe |
| Phone: +49 (0)211 569 22 44 | Phone: +420 255 725 441 |
| Email: knittlmayer@t-online.de | Email: vera.klickova@en.baoli-mh.com |