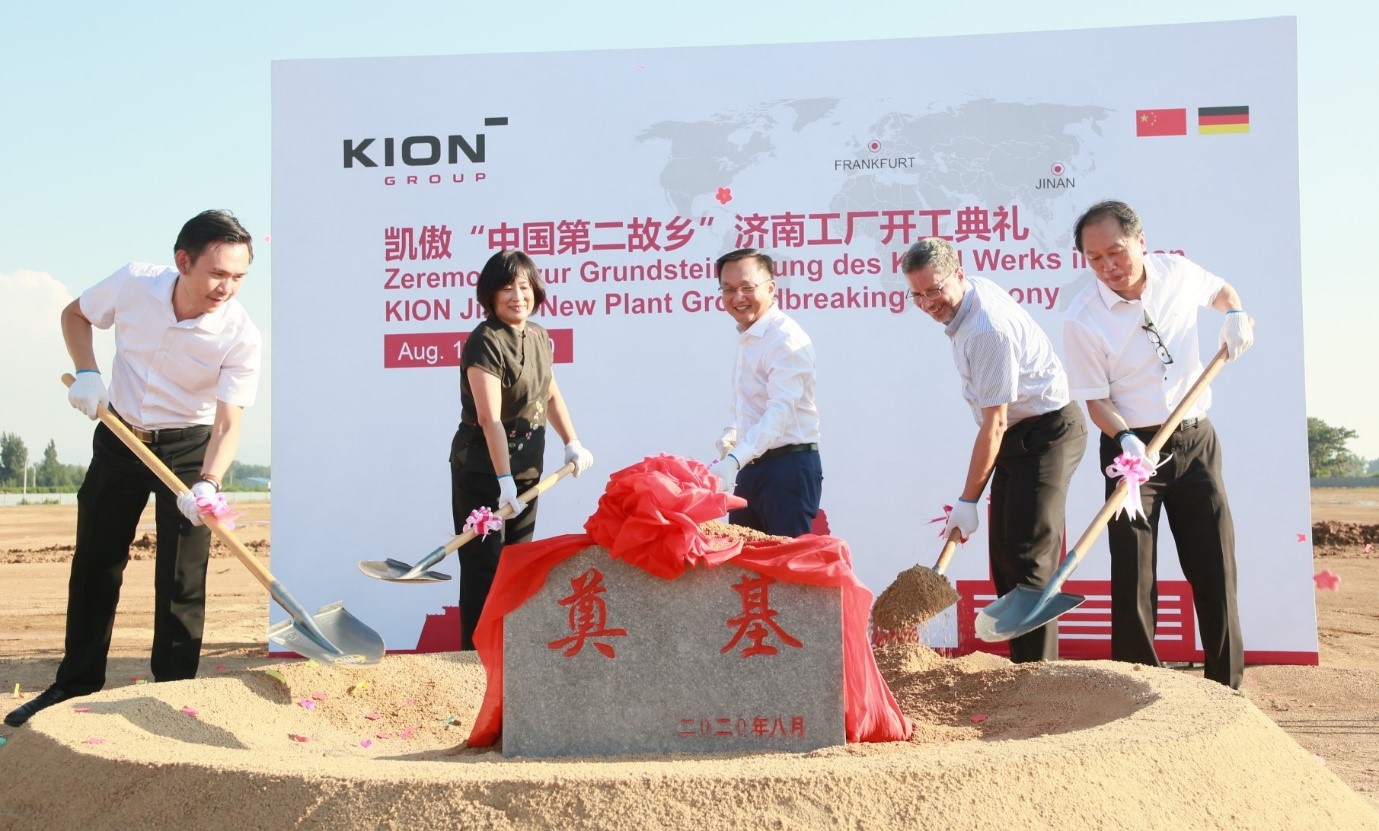 KION Group begins work on new plant in China
– Capital expenditure of around €100 million for future production of counterbalance trucks in Jinan
– Over 800 new jobs to be created
– Expansion of the sales and service network in China
– KION Group CEO Gordon Riske: "We want to harness the potential of this important market even more effectively and significantly expand our position in China"
Frankfurt/Main, August 17, 2020 – KION GROUP AG is expanding its business in China and has begun work on the construction of an additional plant for the production of counterbalance trucks in Jinan in Shandong Province. The pioneering project is expected to enable the global logistics equipment supplier to extend its product portfolio for industrial trucks in one of the world's most important material handling markets at a cost of approximately €100 million. The KION Group intends to create over 800 jobs by 2025 with its new plant in eastern China.
"China has recovered quickly from the coronavirus crisis and as one of the fastest growing markets worldwide, it plays a key role in our strategy," said Gordon Riske, Chief Executive Officer of KION GROUP AG, who took part in the ground-breaking ceremony in Jinan via video link. He noted that according to the World Industrial Truck Statistic (WITS), the Chinese economy accounts for around 30 percent of the global industrial truck market and that – based on KION's Group estimates – this share is set to rise. "We want to harness the potential of this important market even more effectively and expand our position as a leading supplier of intralogistics equipment in China."
Unlocking growth opportunities and capitalizing on the growing trend toward electric vehicles
The Group aims to significantly extend its product portfolio through the new plant, unlocking growth opportunities in the value segment and capitalizing even more on the trend toward greater electrification of industrial trucks in China. The KION Group has established a new company for this purpose, where KION has a stake of 95 percent and Weichai Power, the primary investor in the KION Group, has 5 percent. The equity investment by Weichai Power, which is also based in Shandong Province and manufactures powertrain systems, commercial vehicles and vehicle electronics, ensures that the KION Group has a strong local presence in the region.
"This historic moment once again underscores the close and collaborative work relationship between the KION Group and the Weichai Group," said Xuguang Tan, the chairman and CEO of the Weichai Group, during the ceremony. "We began our productive and highly successful partnership in 2012, and the new plant in Jinan is expected to be a further milestone in this growth strategy."
"Shandong focuses on the construction of production facilities for high-end industrial vehicles around the world. Our goal is to attract such companies," said Ganjie Li, the governor of Shandong Province. "In June, the KION Group successfully launched the intelligent forklift truck project, which is designed to improve supply chains."
"We believe that our highly automated future plant, the new KION Value Competence Center adjacent to it and the expansion of our sales and service network will create the ideal conditions for us to better serve our Linde Material Handling and Baoli customers in the fast-moving Chinese market and to respond more effectively than ever to global demand in the value segment," added CP Quek, member of the Executive Board of KION GROUP AG and Chief Asia Pacific & Americas Officer.
The new plant is expected to come on stream in 2022. On a site covering almost 223,000m² – equivalent to more than 31 soccer fields – the Group is also building an innovative research and development center, a training center and administrative offices next to an advanced production plant where industrial trucks will be manufactured for KION's Linde Material Handling and Baoli brands.
Focus on alternative drive systems
Under its KION 2027 strategy, the KION Group is also placing particular emphasis on energy and energy efficiency, as these are topics that will have a significant influence on intralogistics and material handling. KION's product portfolio already comprises all manner of drive technologies, from internal combustion engines to lead-acid and lithium-ion batteries, and even fuel cells. Electric drive systems are of particular importance given that the KION Group, through its brands, is one of the leading providers of electric-powered forklift and warehouse trucks. Across its various brand companies, the Group has sold more than one million electric trucks in the past ten years. Nearly 85 percent of all industrial trucks ordered by the KION Group are now electric.
The KION Group in China
KION Group brand companies have had a presence in the Chinese market for many years, making KION not only the country's leading foreign provider of industrial trucks and warehouse technology in terms of revenue, but also number three within China. Linde Material Handling started production in China as part of a joint venture in Xiamen, Fujian province, more than 25 years ago, before acquiring all the shares in that company in 1999. KION also opened a second warehouse truck plant, mainly manufacturing Linde trucks, close to its site in Xiamen in spring 2020. The KION Group invested around €13 million in this new plant. Baoli has been part of the KION Group since 2009 and manufactures industrial trucks at its site in Jingjiang, in Jiangsu Province. Dematic is the most recent member of the KION Group and a global leader in intelligent supply chain, software, and automation solutions. The company has been manufacturing systems for the Chinese market in Suzhou, Jiangsu Province, since 2006. The KION Group currently employs over 4,000 individuals in China.
The Company
The KION Group is one of the world's leading intralogistics providers for supply chain solutions. Its portfolio encompasses industrial trucks, such as forklift trucks and warehouse trucks, as well as integrated automation technology and software solutions for the optimization of supply chains, including all related services. Across more than 100 countries worldwide, the KION Group's solutions improve the flow of material and information within factories, warehouses, and distribution centers. The Group, which is included in the MDAX, is the largest manufacturer of industrial trucks in Europe and the second largest worldwide. It is also a leading provider of automation technology.
The KION Group's world-renowned brands are among the industry leaders. Dematic, the newest addition to the KION Group, is a global leader in automated material handling, providing a comprehensive range of intelligent supply chain and automation solutions. The Linde and STILL brands serve the premium industrial truck segment. Baoli focuses on industrial trucks in the value segment. Among KION's regional industrial truck brand companies, Fenwick is the largest supplier of material handling products in France and OM is a leading provider of industrial trucks in the Indian market.
With an installed base of more than 1.5 million industrial trucks and over 6,000 installed systems, the KION Group's customers include companies in all industries and of all sizes on six continents. The KION Group currently operates 25 production sites in eleven countries, including eight in Germany. The Group has over 35,000 employees – including roughly 10,500 in Germany – and generated revenue of €8.8 billion in 2019.